Norway's long coastline is prone to get hit with bad weather quite frequently, and it is not rare for the winds to reach hurricane strength. Yesterday almost the entire West coast of Norway was ravaged by one of the worst storms in years, codenamed "Berit". Berit caused damage as far north as Finnmark and as far south as Bergen. Several harbours and airports were flooded when water levels reached up to 4 meters above normal. In Hordaland, north of Bergen, a bus was blown off the road, and there are several reports of roofs or entire buildings being carried away.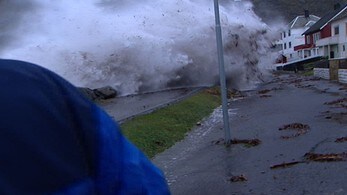 The exposed Lofoten archipelago was, not surprisingly, hit the hardest. Several piers and airports were flooded, a number of boat sheds got blown to smithereens, waves crashed in through livingroom windows, a section of highway was washed to sea, and a small chicken barn suddenly became a chicken boat. A Christmas party at a local pub came to a sudden stop when water started seeping up through the floor and the whole building was rocking. On the island of Værøy, all 750 inhabitants are currently cut off from the world with no electricity, and with both the ferry dock and the helicopter pad destroyed. The airport has also taken heavy damage. The islanders and their mayor are keeping up the spirit, though, and they expect communications to be restored by Monday.
Fortunately, there are no reports of death or serious injury after the storm, much thanks to an efficient early warning system and good media exposure.
If you want to learn more about the naming system for storms in Norway, read our accompanying post Naming Storms (coming soon).
Via ABC Nyheter, NRK and VG.no
You may also like to read...
Related posts: